ABOUT KAREN'S ART
             I have always envied visual artists who couldn't pick up a pencil without doodling. Most artists I've known have been at it for some time, since they were very young. It was different for me. My first love was writing and making up stories. But my fourth grade teacher told my folks I had a special gift, a great sense of color. Since my mother had always wanted to be a fine artist herself, she enrolled me in private classes, which she later joined. It turned out I had good hand / eye coordination, too. So before I knew it I was on my way to becoming a visual artist.
            When I was 19 my mother signed us up for our first of many art fairs. I did drawings and she did mixed media. Later, my dad decided to join the fun and made pottery. My color pencil and graphite drawings had a photographic quality with subjects that varied from portraits to fantasy to scenery.
            After many years, my interest in drawing began to lag. I thought going back to school might help, especially since I was getting my Masters in Modern Art History, Theory and Criticism from the School of the Art Institute of Chicago. But all that theory only blocked me more.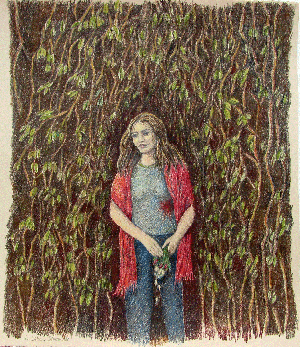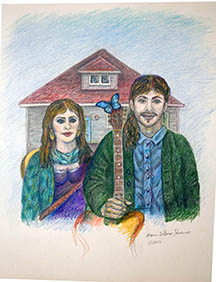 I went back to writing and became part of the Chicago poetry scene in the late 1990's. I wrote an illustrated chapbook of poems called Possibilities. Then I began writing a novel in 2001 that became Dreams of Darkness and Light. I wasn't sure if I could still draw after lots of years of not drawing. But I pulled off the illustrations on the cover and interior pages of the novel. It's a wonderful feeling to see my two talents blended into one product.
            But in between now and my poetry years, I played with crafts that included making jewelry and dyeing scarves. I love fiber arts, working directly with color and texture, and have tried my hand at dyeing wool, spinning, felting and knitting. But the scarves are my mainstay. I work with acid dyes as well as fabric paints, sometimes combining techniques. I also learned a natural dye technique that only works on silk. I've used everything from flowers and weeds to stuff gone bad in the fridge to create these unpredictable but always unique scarves.